E-SCAN

®

3D

earth geo-electric mapping
3D E-SCAN acquired by Crone Geophysics,
to deliver 3D Resistivity (and IP) resource mapping services, worldwide.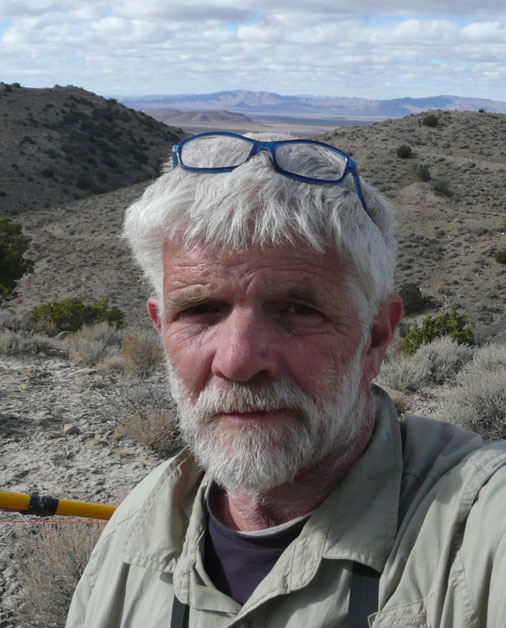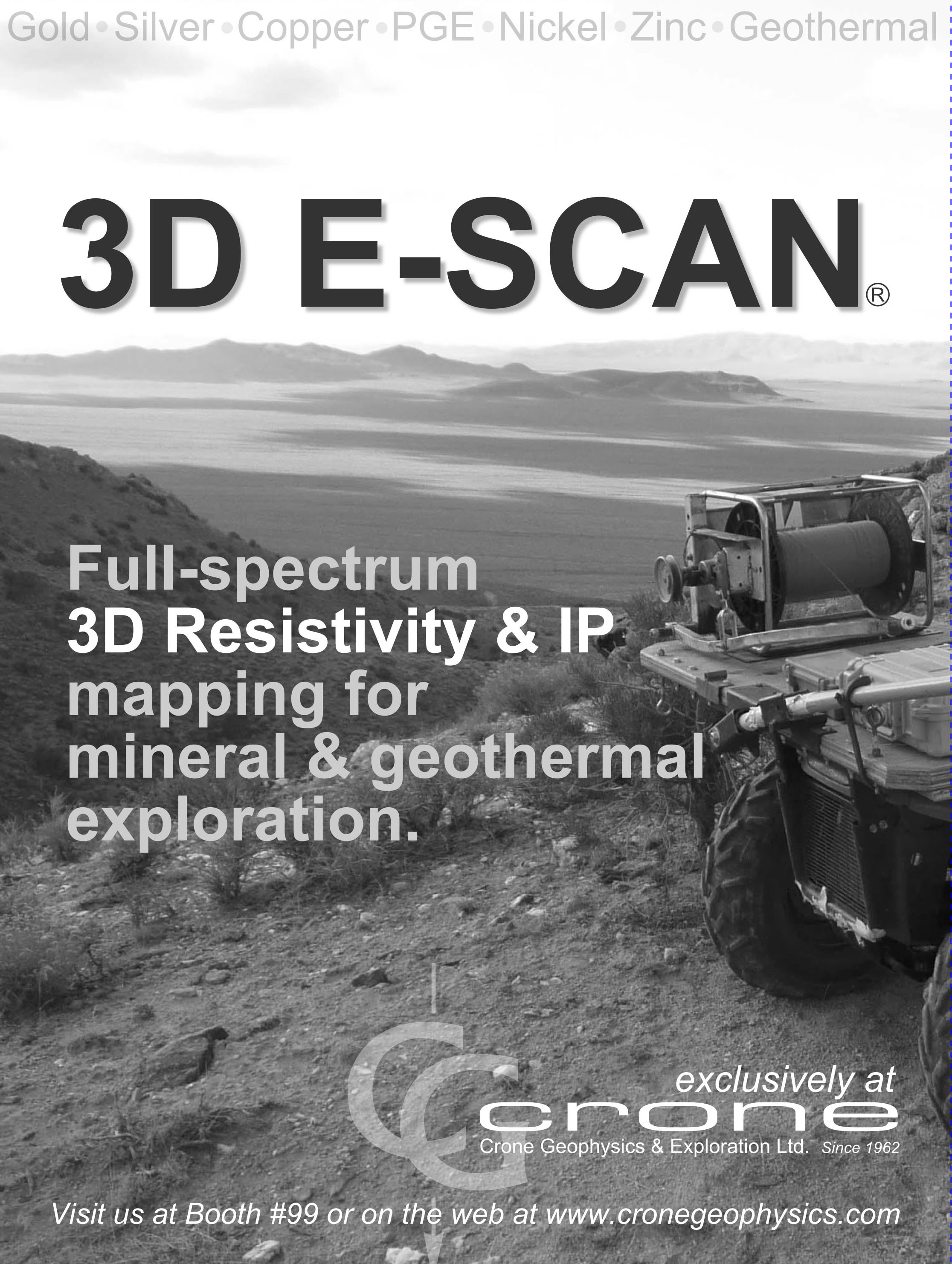 Premier Geophysics Inc. and Crone Geophysics & Exploration Ltd. are pleased to announce that 3D E-SCAN DC resistivity and IP mapping services are now offered on an exclusive world-wide basis by Crone Geophysics, operating out of Mississauga, Ontario, and Reno, Nevada.

Crone is renowned for innovation in EM instrumentation design, manufacture and field services, since 1962. Today, Crone continues to provide TDEM ground and borehole survey services to many of the world's largest resource companies and organizations, continuing a half-century tradition of service to the mining industry. The adoption of the state-of-art 3D E-SCAN technology today marks a return to Crone's much earlier interest in IP and Resistivity, - some of you will remember the sturdy and productive pre-digital Crone IP receiver.

For Premier, this arrangement provides some long-missing elements in support of the innovative 3D E-SCAN technology,- not least of which is the ability to cost-effectively mount and support 3D IP and resistivity mapping projects around the world, with multiple crew capability to meet any demand in a timely manner. With access to Crone's world-class R&D facilities and survey instrument design and manufacturing operation, a reliable supply of new 3D E-SCAN systems is assured.

Some history. 3D E-SCAN grew to its present status from R&D initiated in 1976 on the Meager Creek Geothermal Project of the BC Hydro and Power Authority. When the Geological Survey of Canada (GSC) and BC Hydro realized that this technology could resolve ongoing problems in mapping the resistivity patterns of Geothermal Systems in extreme terrain, both cash funding and in-situ field test and development programs were made available to ensure delivery of a working system for (non-exclusive) use by BC Hydro and the GSC. Shortly after its successful debut 3D survey in 1982 (Mt. Cayley Geothermal Project, GSC), a 3D E-SCAN field data set acquired in steep terrain on the flanks of Makushin Volcano (Unalaska Island, in the Aleutians) provided the Alaska Power Authority with the guidance that they needed in their project, but perhaps more significantly, it also provided the hard data insights and incentive for a group of geophysics students, post-docs and professors at the University of British Columbia (UBC) to move rapidly ahead with some of the first practical 3D inversion codes ever developed. Since about 1987, the UBC 3D DCIP codes have evolved and today remain the workhorses of 3D DCIP and DC resistivity data inversion, to be joined more recently by offerings from Loke and others. As we move into another E-SCAN era at Crone Geophysics & Exploration, we expect a further quantum leap in cost-efficiency for 3D DCIP mapping, and for increasingly focused and intelligent 3D inversion strategies (example: the Cross-Line strategy for real-time conversion of low-cost high-speed line reconnaissance traverse anomalies into fully drill-ready 3D target imagery - see LINEAR below).

LINEAR E-SCAN and the cross-line anomaly strategy. Crone is pleased to announce new tools for geothermal and IOCG reconnaissance mapping, tools which not only cost-effectively detect these large scale typically-conductive manifestations, but can then immediately acquire comprehensive true 3D detailed imaging of each detected anomaly, to drill-ready standards... while the crew and survey gear are already on site. Details of the Cross-Line strategy and other innovations will be added to the E-SCAN technical website (this website) shortly, but discussion is available now for interested explorers.

Custom data acquisition. Recognizing the inclination of larger company exploration departments to do their own 3D inversion processing, Crone announces new services in true 3D field data acquisition which deliver (after documented field data set QA/QC verification) guaranteed inversion-ready field data sets for client use, usually within days of field survey completion.

We encourage all new and existing customers of Crone and Premier to contact us to discuss the possibilities and cost advantages that may be available for your specific exploration settings, using the continuously evolving Crone 3D E-SCAN.

Check out Crone's website at www.cronegeophysics.com for more information about Crone and its history. The 3D E-SCAN website (where you are now) will be retained and upgraded, and linked to the Crone website as the ongoing master source of technical and case history information on 3D E-SCAN and its derivative survey services and data processing capabilities. For example, check out this site's GOLD section, where we have added the case results of the first 3D IP/resistivity survey ever in the

Comstock Trend

, completed by Crone Geophysics in January 2015 using HiRes3D E-SCAN. Summary results were presented at the recent GSN Symposium in Reno, May 2015.

One last thought... in most cases, a compelling and welcome benefit from this enhanced 3D E-SCAN capability will simply be: LOWER COSTS.

To contact Greg Shore or Dave Campbell at Crone Geophysics: call 1 905 814 0100, or e-mail e-scan@cronegeophysics.com or call or text Greg's cell: 289 221 3604.

3D E-SCAN IP and/or DC Resistivity mapping and 3D drill targeting, from three starting survey levels: Recon3D, Target3D, and HiRes3D.

Single-line, Gradient and Rotary Gradient surveys; mise a la masse surveys, all specialized array approaches, -
in superior resolution, higher signal, lower current demand modes.
All optionally capable of delivering fully data-constrained 3D drill targeting within a single survey outing.

State-of-art TDEM ground and borehole surveys

Combined 3D E-SCAN and borehole TDEM for complex settings, deep greenfields and brownfields applications.

As always, our best to you.

Bill Ravenhurst, President, Crone Geophysics & Exploration Ltd., and Greg Shore, President, Premier Geophysics Inc. 9 September, 2015


Websites:
www.e-scan3d.com
|
www.cronegeophysics.com
|
to E-SCAN HOME PAGE
|
back to top of this page
|
Contact Us
| download Greg Shore's C.V.