CASE C: Mt. Cayley, BC Resolving ambiguous dipole anomalies Geological Survey of Canada
---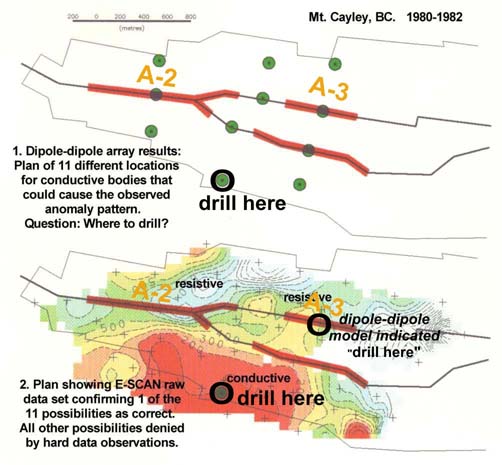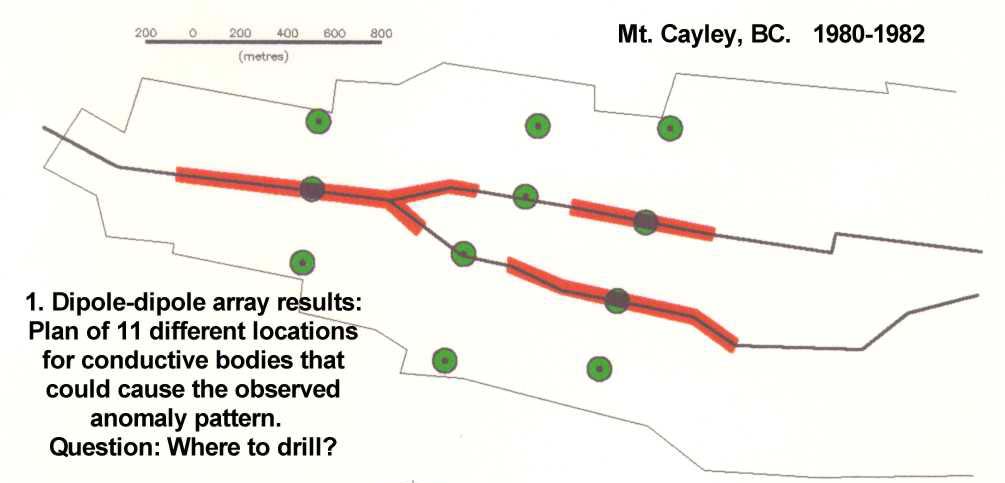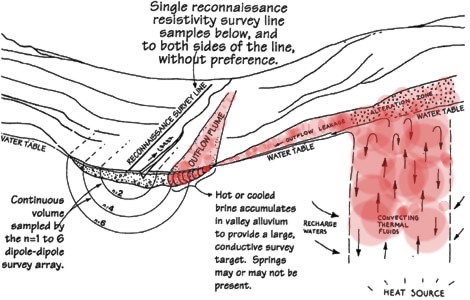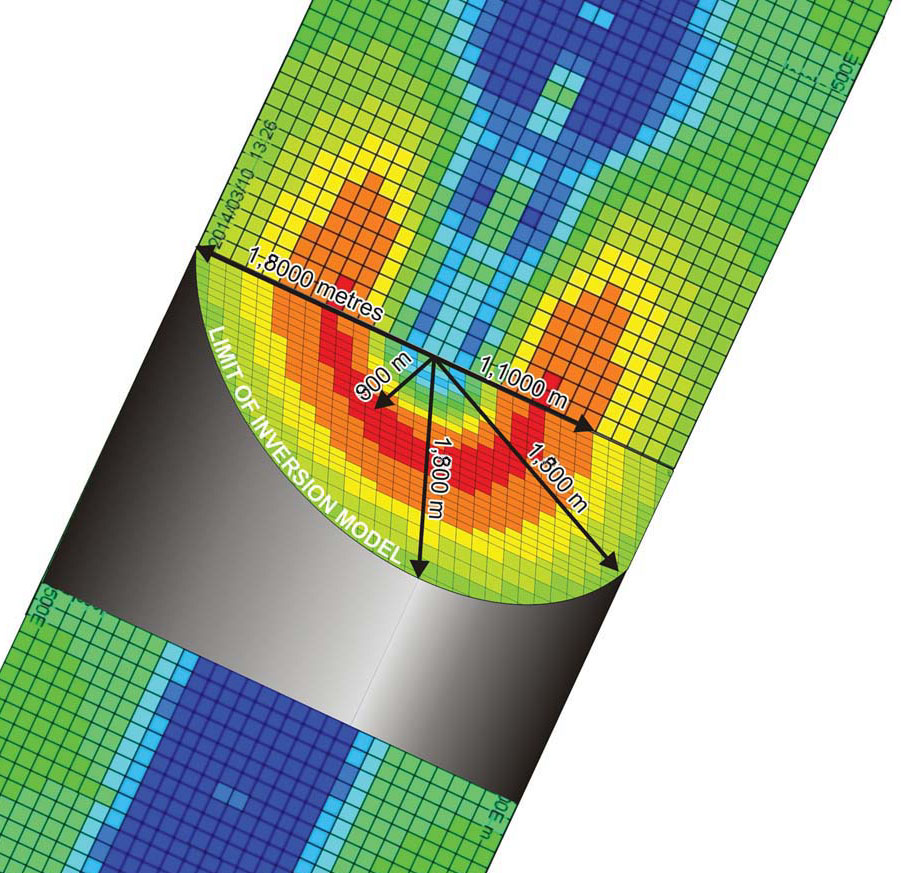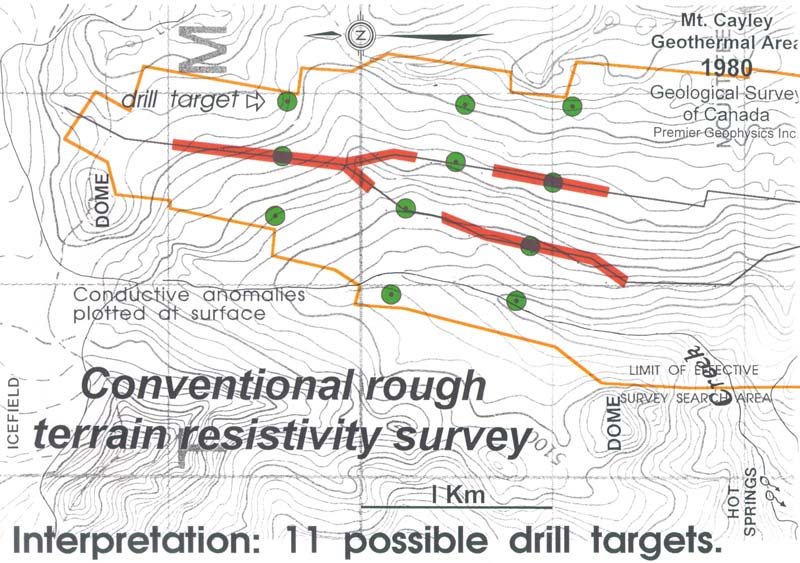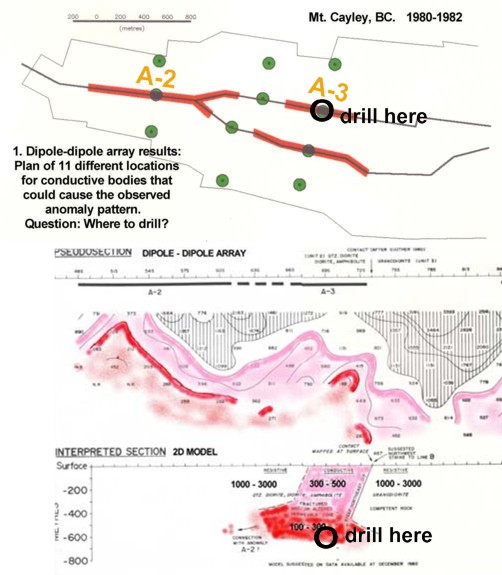 1982: 3D E-SCAN resolves an ambiguous 2D line-data interpretation.
A high-elevation cross-country resistivity traverse across the Mt. Cayley geothermal area detected a strong conductivity anomaly pattern not far from some known hot springs and young dome structures. Despite the extra data acquired by installing a difficult second parallel survey line, the interpretation of the two-part anomaly remained ambiguous. No fewer than 11 different locations were identified as possible sources of the conductive material causing the anomalies.
3D E-SCAN clearly established that just one of the 11 candidate areas was responsible for the dipole anomalies. This conductive area lay not beneath but west of
both
of the dipole traverse lines (but still within the
swept volume
of each line). Adding certainty to this interpretation was the confirmation, using equally comprehensive field data measurements, that all 10 of the other candidate sites were located in resistive territory.
The 3D E-SCAN system was designed to operate in this type of extreme physical conditions, so that explorationists can always be assured that in every field program, sufficient true 3D field data will be generated to fully resolve any anomalous conditions, without ambiguity or uncertainty.
LINEAR + 3D
- updating today's geothermal reconnaissance strategy to state of the art:
This case example shows that a reconnaissance geothermal mapping process employing E-SCAN's LINEAR + 3D sequence provides complete, 3D target-resolved reconnaissance mapping that is more certain of a useful result, and more cost-effective, than traditional reconnaissance methods. First, the high speed LINEAR E-SCAN samples a 10-times greater swept volume than a typical dipole-dipole array survey, pushing the effective lateral search radius far into the adjacent rough country (and deeper) to pick up outflow signatures and in-situ resource bodies alike. Then, using the wiring setup already in place for LINEAR E-SCAN, a 3D E-SCAN setup comes efficiently into play by expanding the LINEAR electrode layout laterally into any terrain, to deliver a comprehensive 3D mapping of the precise geometry and characteristics of the sources of anomalies that have been encountered along the planned route.
This sequence condenses the wide-area reconnaissance phase and the follow-up target verification phase into a single highly-efficient survey that will never leave you wondering, for example, which of 11 possible targets you should drill,- regardless of terrain conditions or complexity of target geometry.
Upgrading existing prospects:
Historically, there may be hundreds (certainly dozens) of dipole reconnaissance anomaly settings worldwide that remain unresolved and inconclusively tested, as a result of prior unavailability of the any-terrain follow-up method explained above. Just as Mt. Cayley's complex and unverifiable anomaly pattern was resolved by subsequent application of a separate 3D E-SCAN survey, so too may other historical settings be resolved today. Explorers with access to geothermal property records may wish to review the circumstances of each property's demise to see whether a fresh (and accurate) resolution of drill targets associated with dipole traverse anomalies might warrant renewal of exploration investigations in the area.
The same opportunity may exist for abandoned properties where the principal reconnaissance geophysical mapping has been 2- or 3-point Schlumberger array traversing (New Zealand/DSIR style), or some "roving dipole" experiment. These approaches may lack the operational flexibility and the comprehensive true 3D data capabilities that are needed to unambiguously define drill target geometry in difficult terrain.
Crone Geophysics can help in this property review process.
---
---